C4 Sport
Regular price
$39.95
Save $-39.95
/
Tax included.
Shipping
calculated at checkout.
---
BUY 1 GET ONE HALF PRICE WITH CODE: C4SPORT

Description
C4 pre-workout energy made for exercise with Arginine AKG to increase blood flow and Beta Alanine to keep you going.
C4 Sport delivers smooth energy and the supplements muscles need to last longer and push further through even the toughest moments of a training session. Open up your blood flow, prepare the muscles for endurance, and get to work.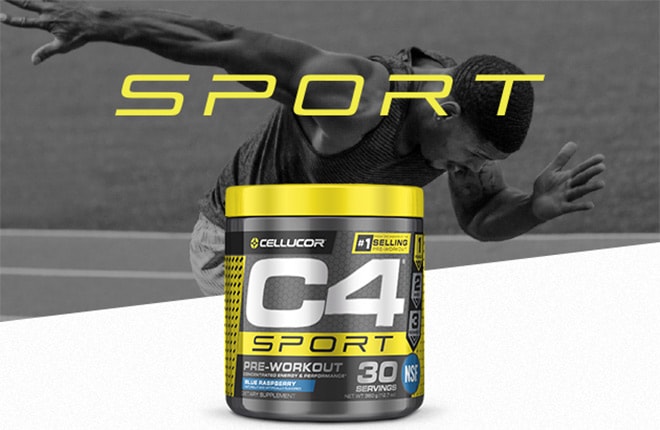 START OFF STRONG
You're dedicated to giving everything you've got when you train, but every athlete at every level has one thing in common: the desire to start off strong. Whether you're a swimmer, a lifter, or just enjoy a daily jog, taking a pre-workout like C4 Sport can help give you the energy you need to get through even the toughest moments of your fitness journey from before "go" to long after you've left the track or taken off your gear.*
BETTER ENERGY, BETTER PERFORMANCE, BETTER TRAINING*
Taking a pre-workout can help you get started and train longer and harder than before. C4 Sport is pre-workout energy optimized for exercise.* It combines two formulations to support performance and energy into one, so every base of your workout is covered.* The performance side includes creatine monohydrate for muscle endurance, Arginine AKG to increase blood flow and keep you going, and Beta Alanine to help keep fatigue at bay.* The energy side contains an explosive blend of caffeine and taurine for unrivaled focus and energy.*
NSF-CERTIFIED FOR SPORT
Training hard and taking care of yourself is important to you, and it's important to us that you're taken care of. We want to be your trusted partner on your fitness journey, which is why we've designed our formulations to help you get the most out of your workout, and make them in mind-blowing flavors that you'll crave. With C4 Sport we've gone the extra mile and had it NSF-certified for sport to guarantee its safety for pro-athletes and everyday athletes alike. NSF certification is trusted by the MLB, NFL, NBA, and NCAA, and is crucial to ensuring that what you're putting into your body has held up to rigorous scrutiny and safety standards so you can get out there and only worry about beating that next goal.
THE TIME IS NOW!
Take one serving (1 scoop) of C4 Sport, mixed with 4-6oz. of water 20-30 minutes before training. Do not exceed two scoops per day. During your workout, it is recommended that you drink plenty of water. Some individuals may experience a harmless tingling sensatin, which is attributed to beta alanine.
FORMULATED FOR YOU
However you get out there, C4 Sport can help you get the energy you need. You have lots of goals, we have just one: to help you beat yours. When you start your workout with C4 Sport your workout will never be the same.